From May 24th to 26th, the 16th SNEC International Solar Photovoltaic and Smart Energy (Shanghai) Conference and Exhibition was held at the Shanghai New International Expo Center. Exhibiting at our doorstep? Chint Power has made sufficient preparations. Bringing new high-power PV plus storage products, 320kW string inverters, Power Block 2.0 liquid-cooled energy storage systems, and a new monitoring platform to a surprise appearance at Hall N5 No. 550, together with Chint Power's Residential, commercial, and ground power stations series of inverters, and European version of Residential energy storage systems, 1.1MW centralized inverters and other optical storage products. The booth was crowded with people, and the product managers were patiently answering questions for the exhibitors.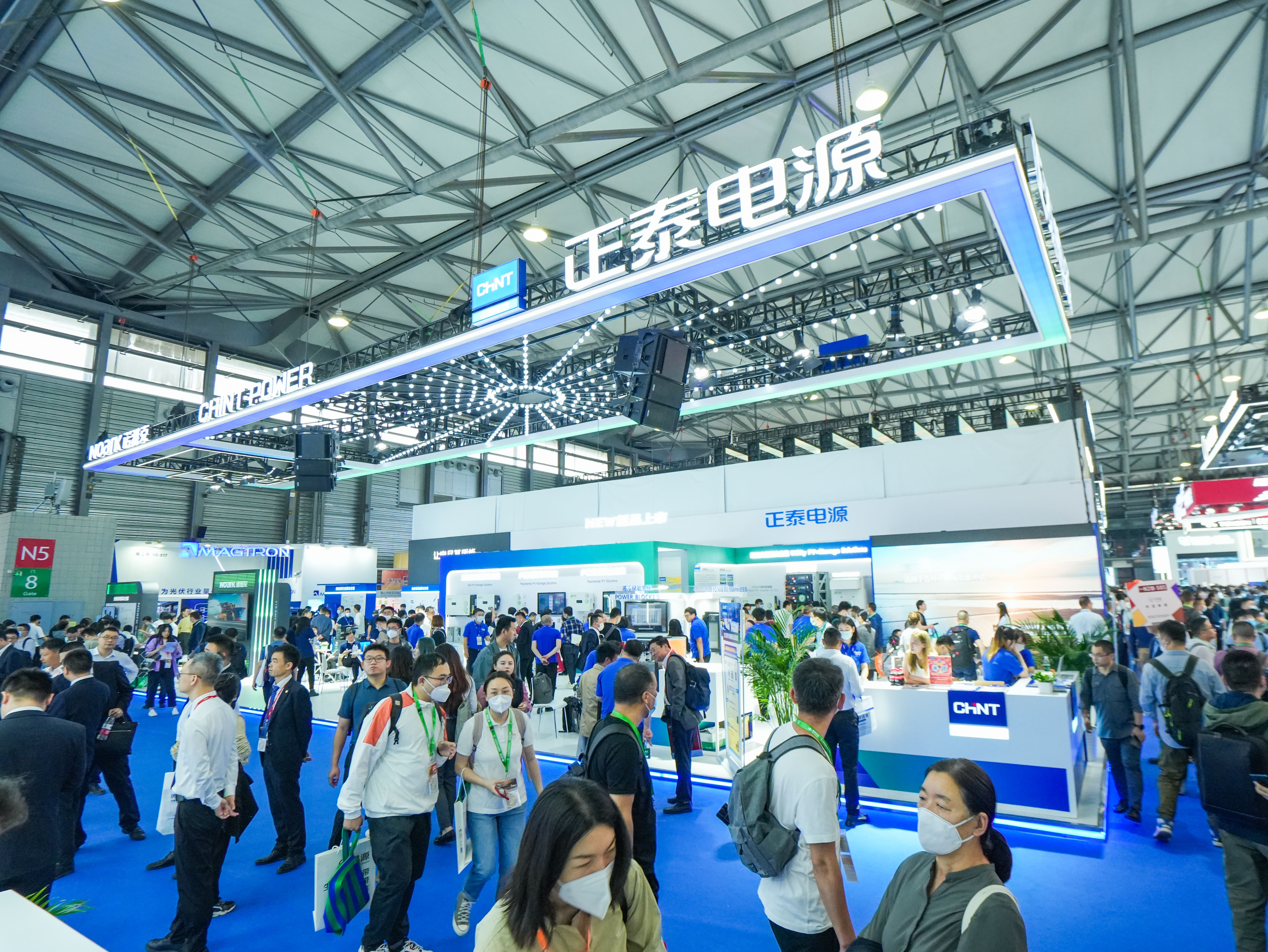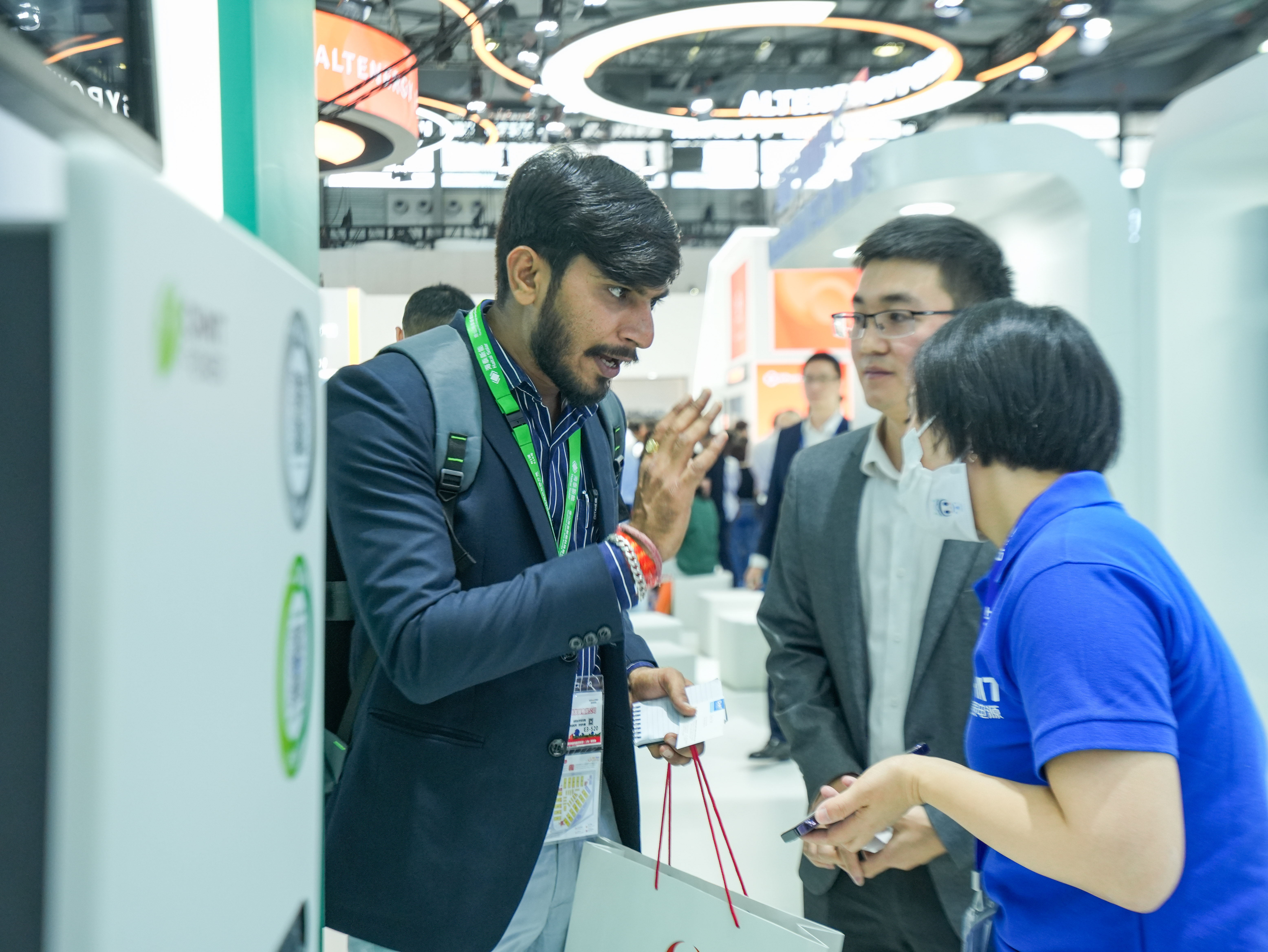 A variety of high-power new products were released, opening a new era of hybrid storage
With the successive implementation of large base projects, 2023 will be a year for large-scale grid connection of large base projects. High-power and high-efficiency hybrid storage products will become the darling of the market. Chint Power closely follows the market demand, and with years of experience in hybrid storage, has launched a new high-power hybrid storage product - POWER BLOCK2.0 liquid-cooled energy storage system and 320kW string type inverter.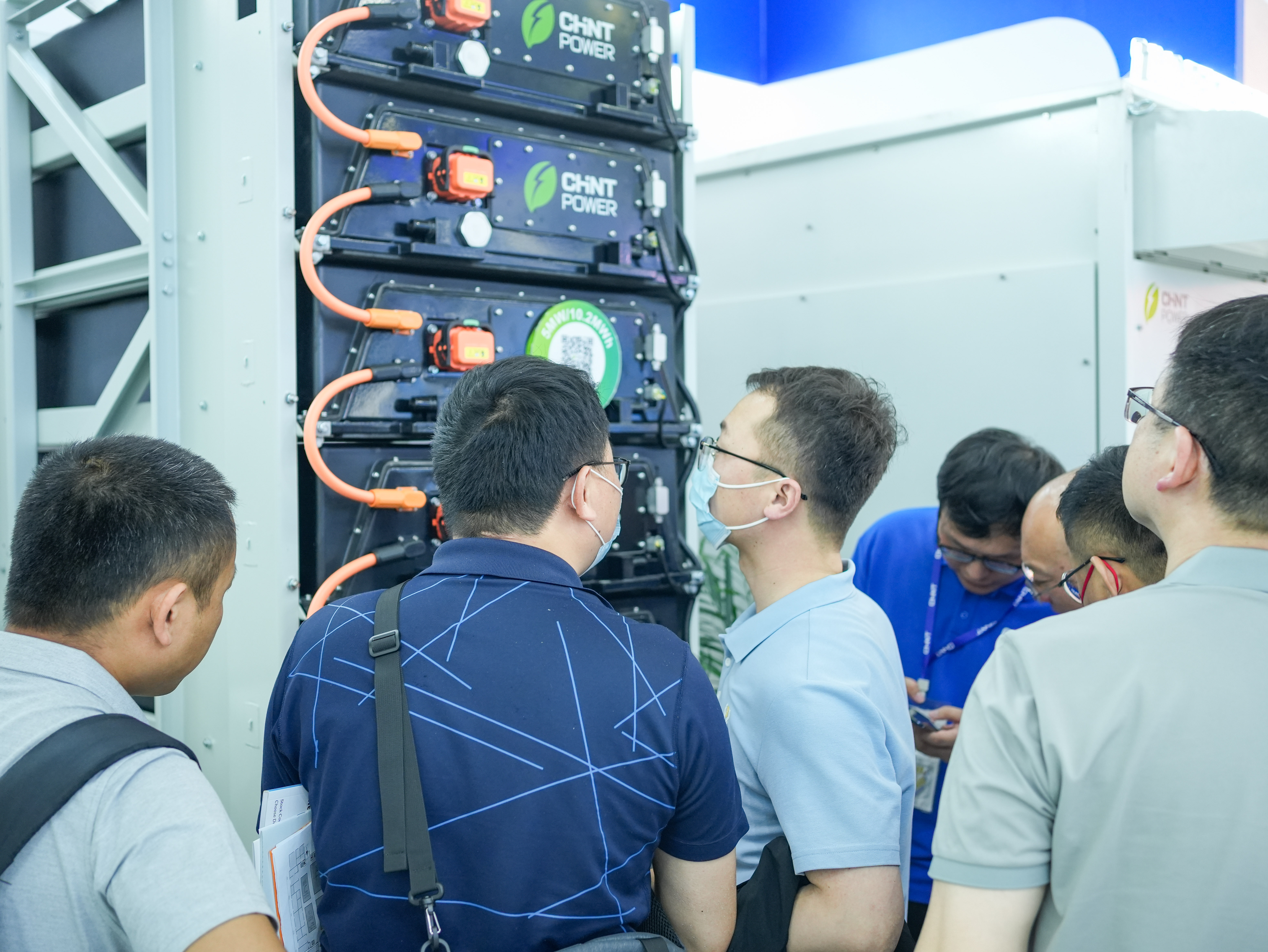 High-power POWER BLOCK 2.0 energy storage system
High energy density + intelligent liquid cooling temperature control, performance upgrade, safety and efficiency
High specific energy: The POWER BLOCK2.0 liquid cooling system continues the product concept of the ultimate design of the POWER BLOCK1.0 system. Through the efficient grouping technology, the Pack layout in the container is further optimized, and the grouping efficiency of the system is improved. The entire system adopts prefabricated production in the factory, without on-site installation and commissioning. The transportation cost of the system is reduced, the project area is reduced, and the construction period is shortened.
High performance: The POWER BLOCK 2.0 liquid cooling system adopts intelligent liquid cooling temperature control technology, multi-stage variable-diameter liquid cooling pipeline design, and the temperature difference of system-level batteries is less than 2°C. Effectively reduce system power consumption, improve the cycle life of the energy storage system and the project income in the whole life cycle.
High safety: The POWER BLOCK 2.0 liquid cooling system adopts an all-round and global safety design. From the battery cell, pack, battery cluster to the system, four-level fusing and ten-level electrical linkage protection measures are built to quickly perform multi-dimensional fault protection and effectively isolate fire hazard; at the same time, the system adopts pack-level fire protection design, which provides more accurate protection and improves system safety.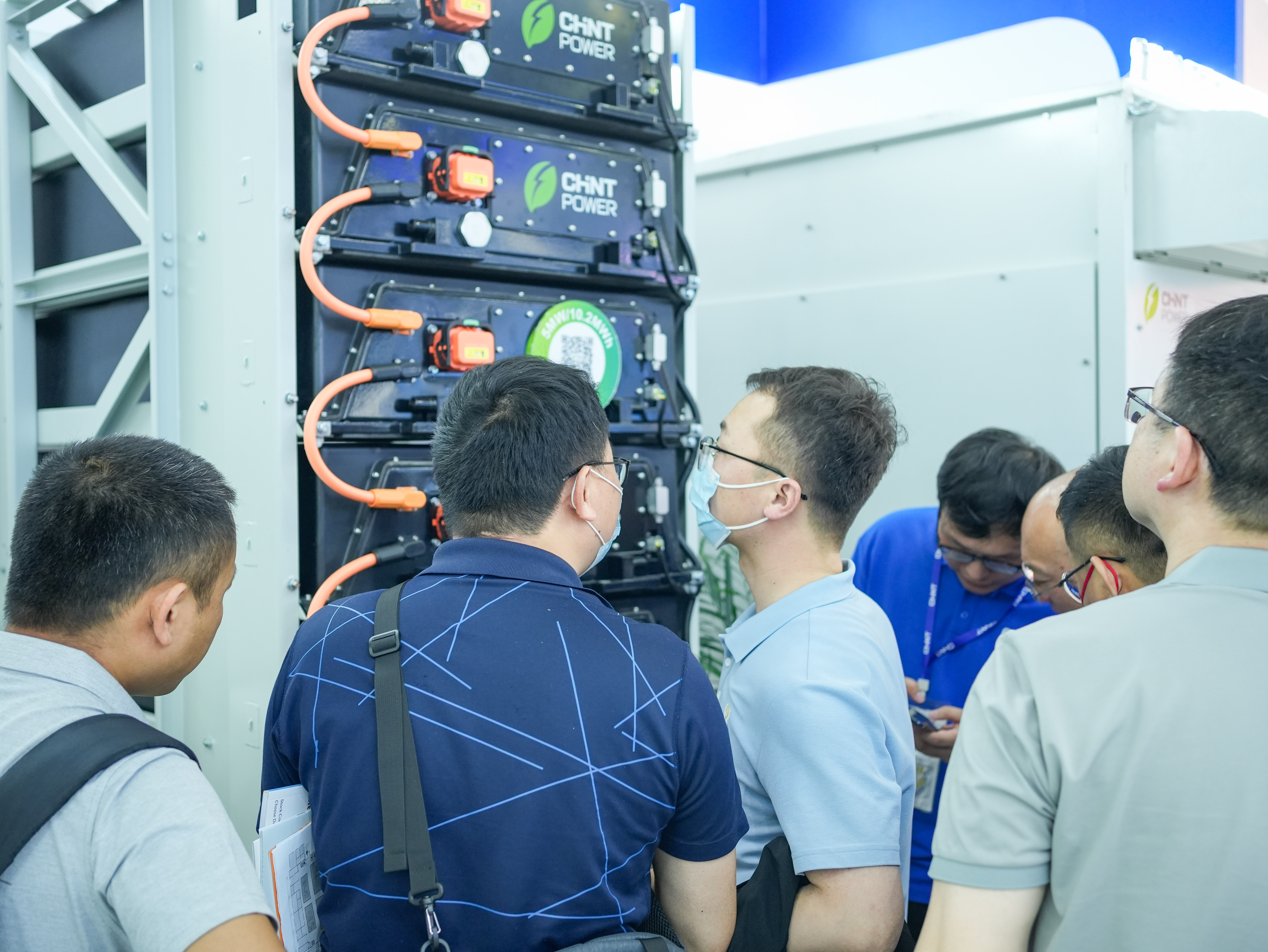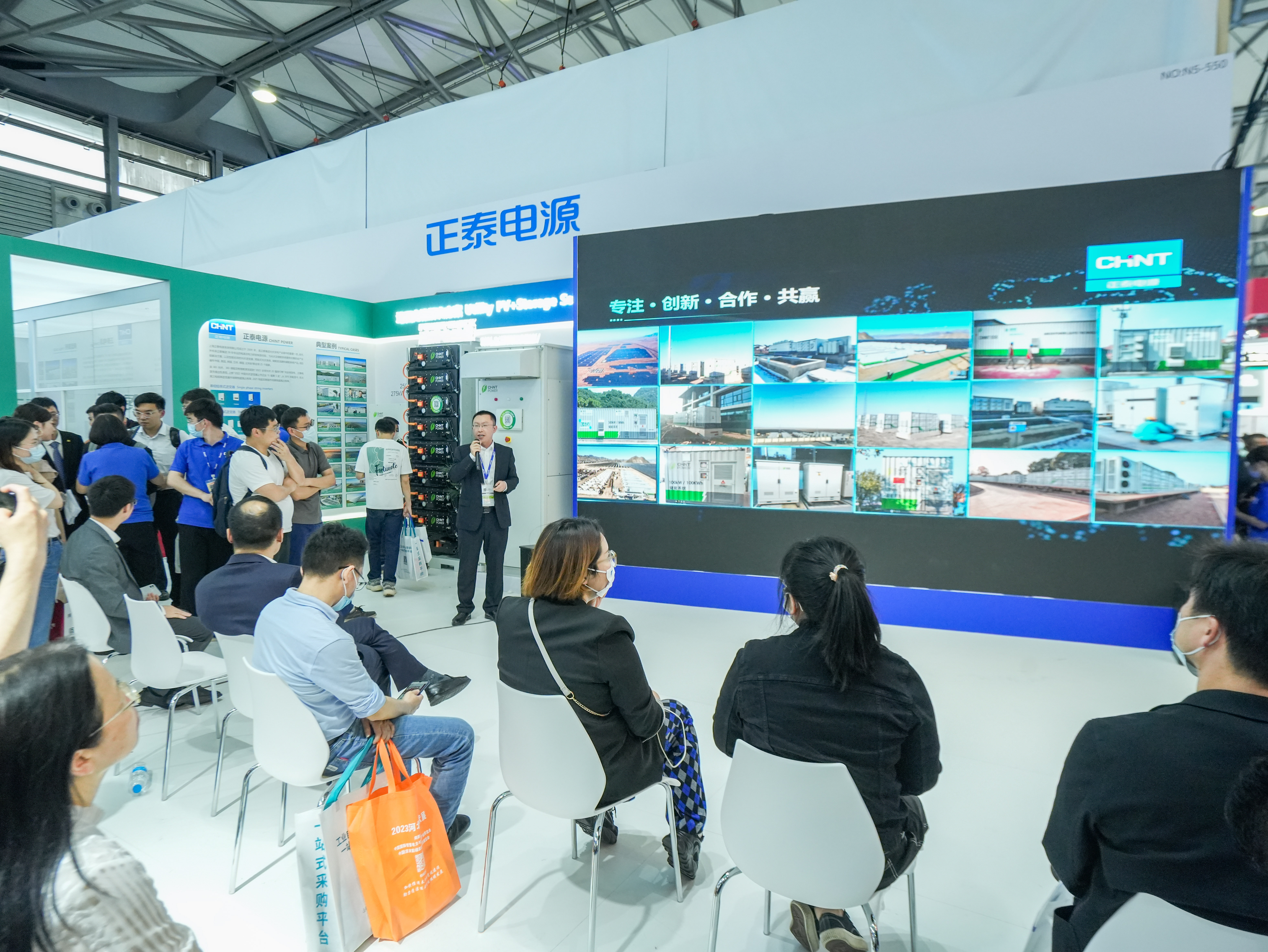 High power string inverter
Achieve more than 2 times DC/AC ratio, leading the ultimate power generation
Chint Power's 320kW inverter is a professional inverter for utility power stations. The biggest feature is its excellent heat dissipation design, which ensures that the inverter can still maintain full power without derating at 50°C, improve the power generation efficiency of the system. The maximum input current of each MPPT reaches 45A, and can achieve more than 2 times DC/AC ratio, perfectly meeting the full power output of 210mm components and reduce equipment investment costs; it is equipped with CAN+PLC communication mode, millisecond-level communication, and perfectly responds to whole system monitoring, to facilitate remote operation and maintenance for customers, saving system maintenance costs.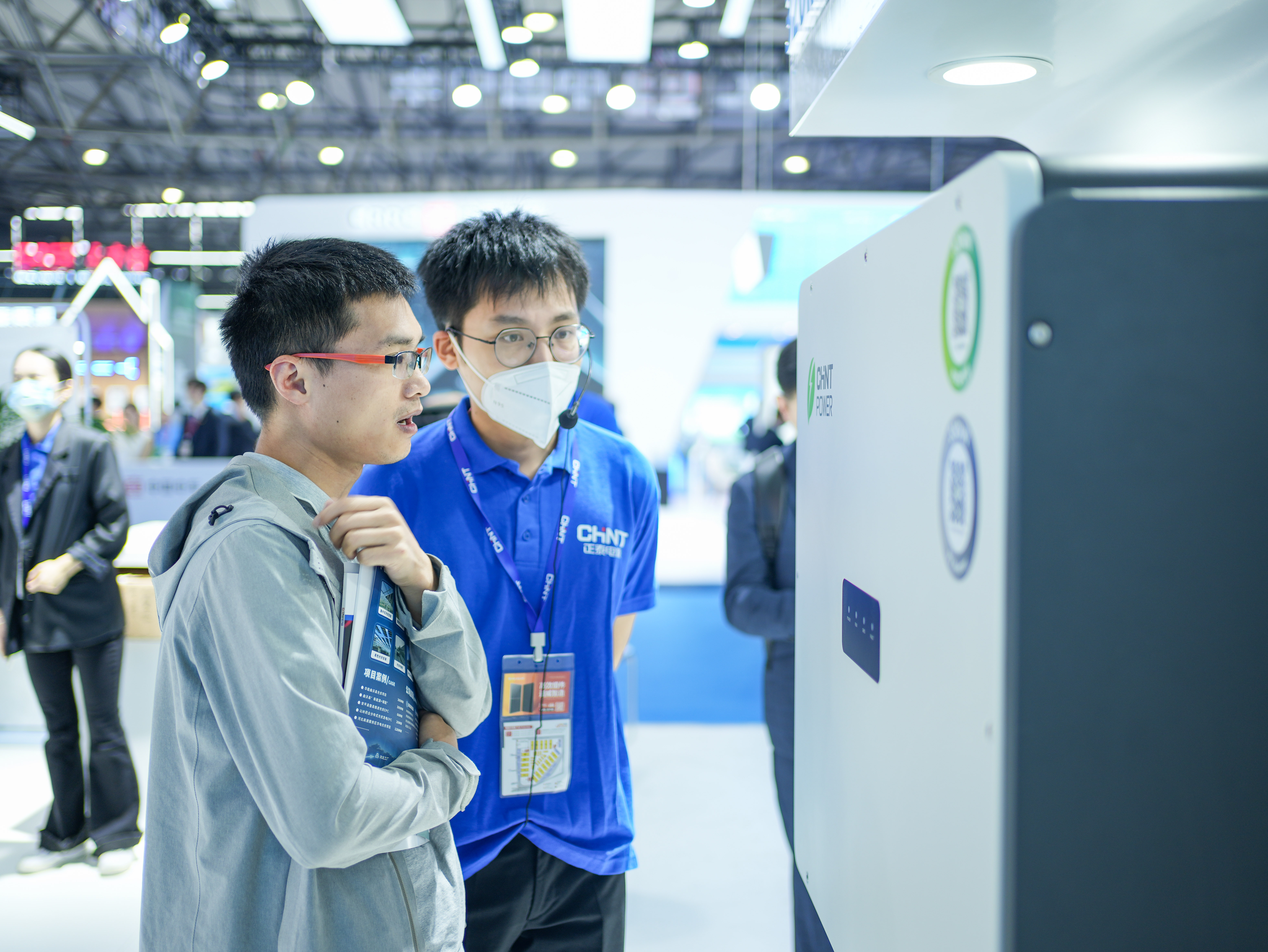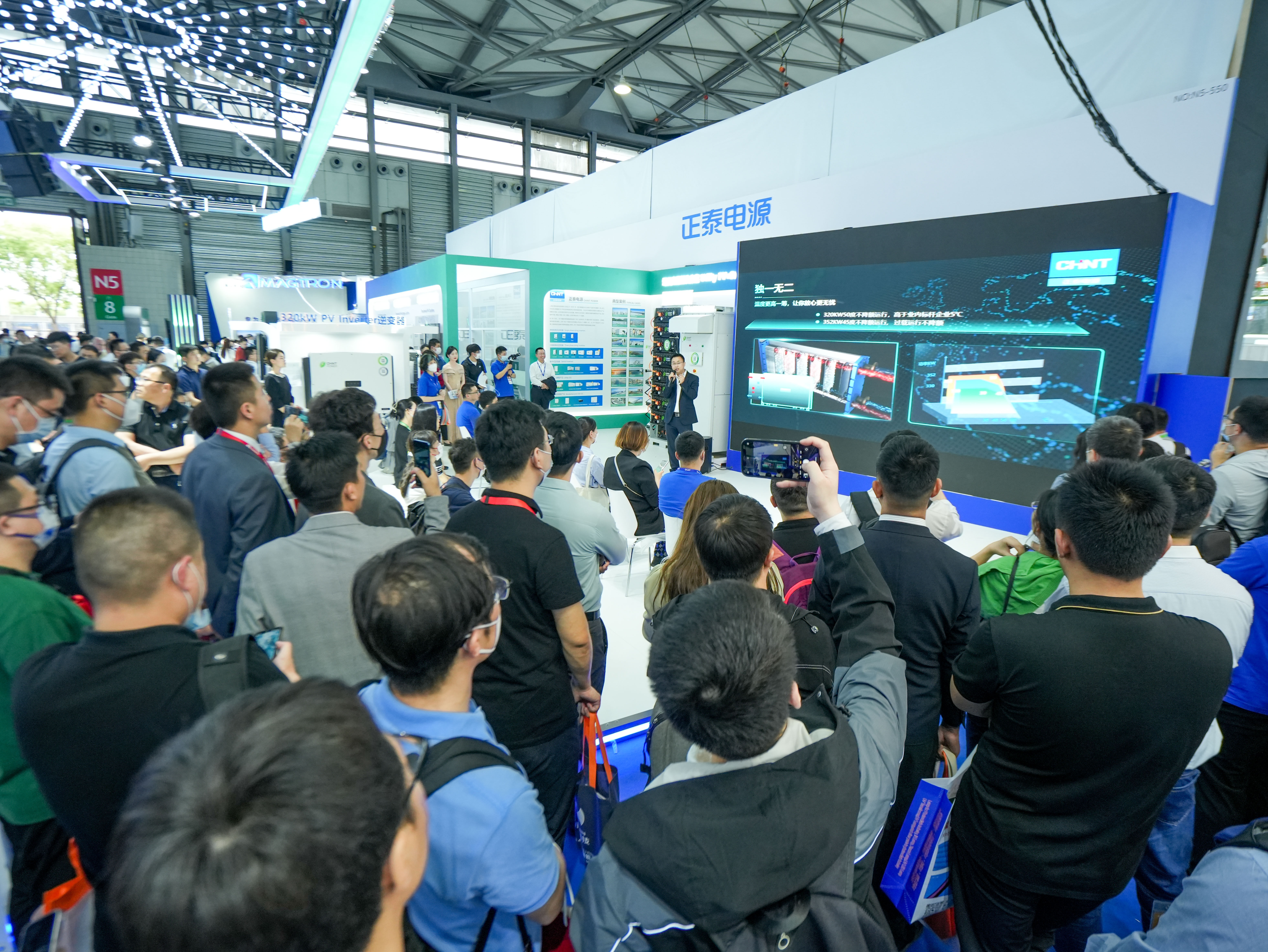 On-site contract signing, jointly writing a new chapter in energy development
On the afternoon of May 24th, under the witness of Mr. Lu Chuan, chairman of Chint Power, and Mr. Zhang Xiaoyu, general manager of China Resources Zhongxi Branch, Zhou Chengjun, general manager of Chint Power, and Shan Wenxian, general manager of China Resources Zhongxi Branch, signed a strategic cooperation at the exhibition site protocol. This signing is conducive to the combination of China Resources Power's clean energy development needs and Chint Power's technological advantages, deepening the in-depth cooperation between the two parties in Residential and ground power station applications, and promoting the value of multiple parties.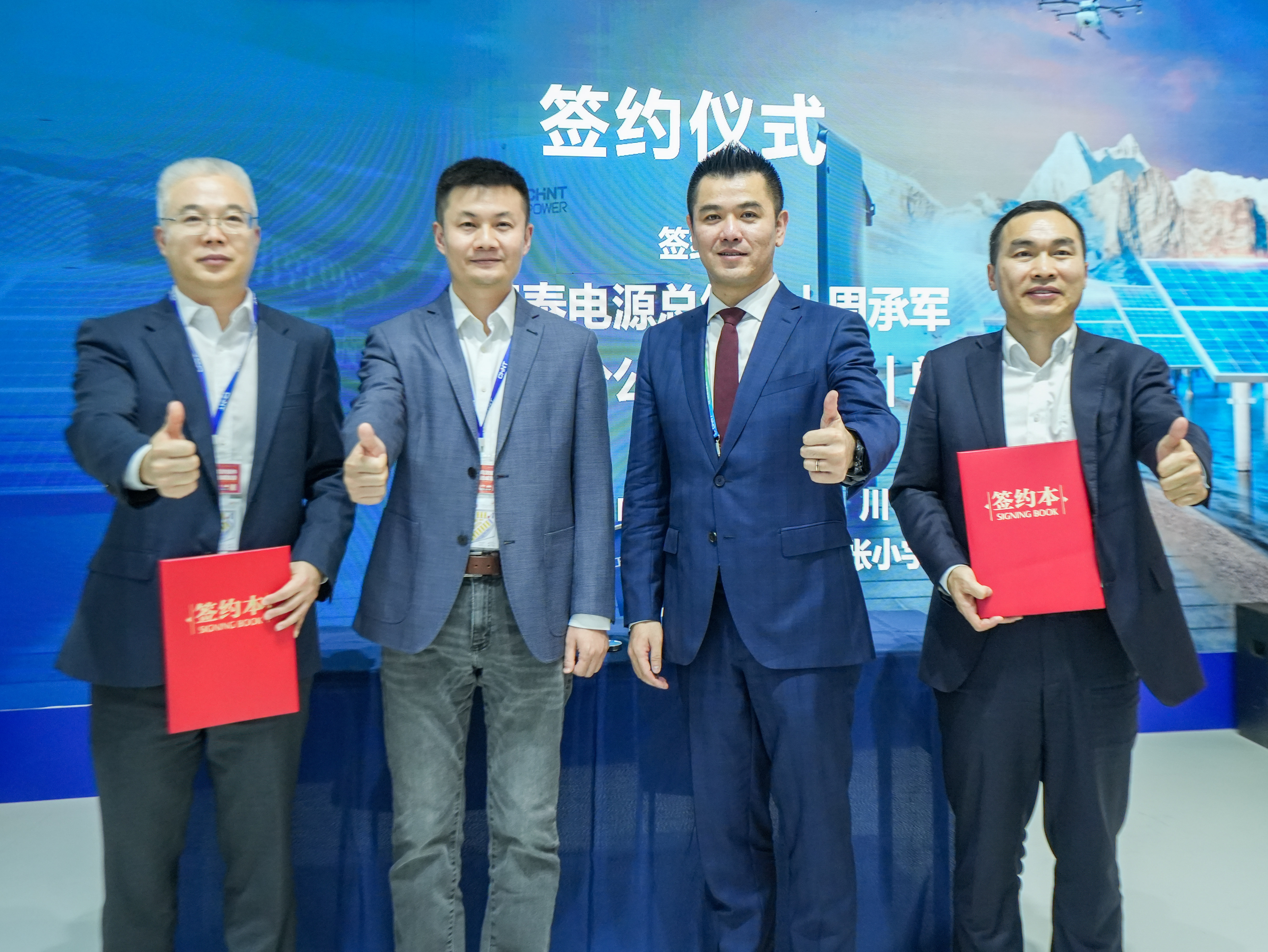 Chint Power simultaneously launched a smart PV storage monitoring platform and APP. Providing a friendly interface that is easy to navigate and understand, users can easily manage their solar storage systems and make informed decisions. It greatly improves the user's participation in the optical storage system and the utilization efficiency of the entire system.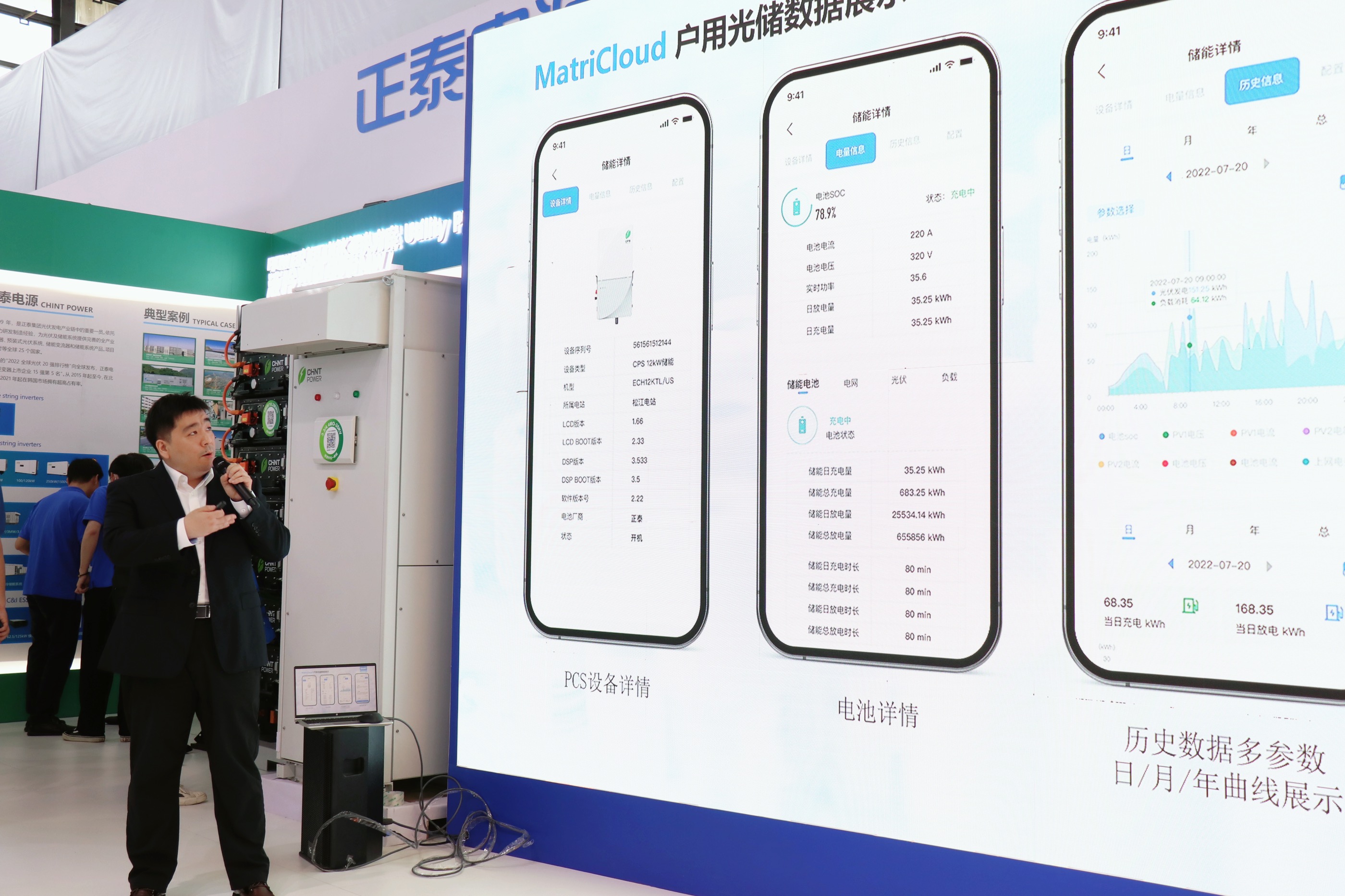 Authoritative certification, sharing the shining moment of the inverter
On the afternoon of May 24th, during the SNEC exhibition, Chint Power received product certification certificates issued by multiple testing agencies. At the crowded booth, Mr. Li Weichun, Vice President of TÜV Rheinland Global Power Electronics Product Service and General Manager of Solar Energy and Commercial Product Service in Greater China, issued the TÜV Mark certification certificate for the 320kW ultra-high power series inverter of Chint Power. Coincidentally, Ge Yanqing, vice president of CSA Group, a third-party testing organization, also issued a safety certificate for the 350kW US-version inverter of Chint Power at the exhibition site.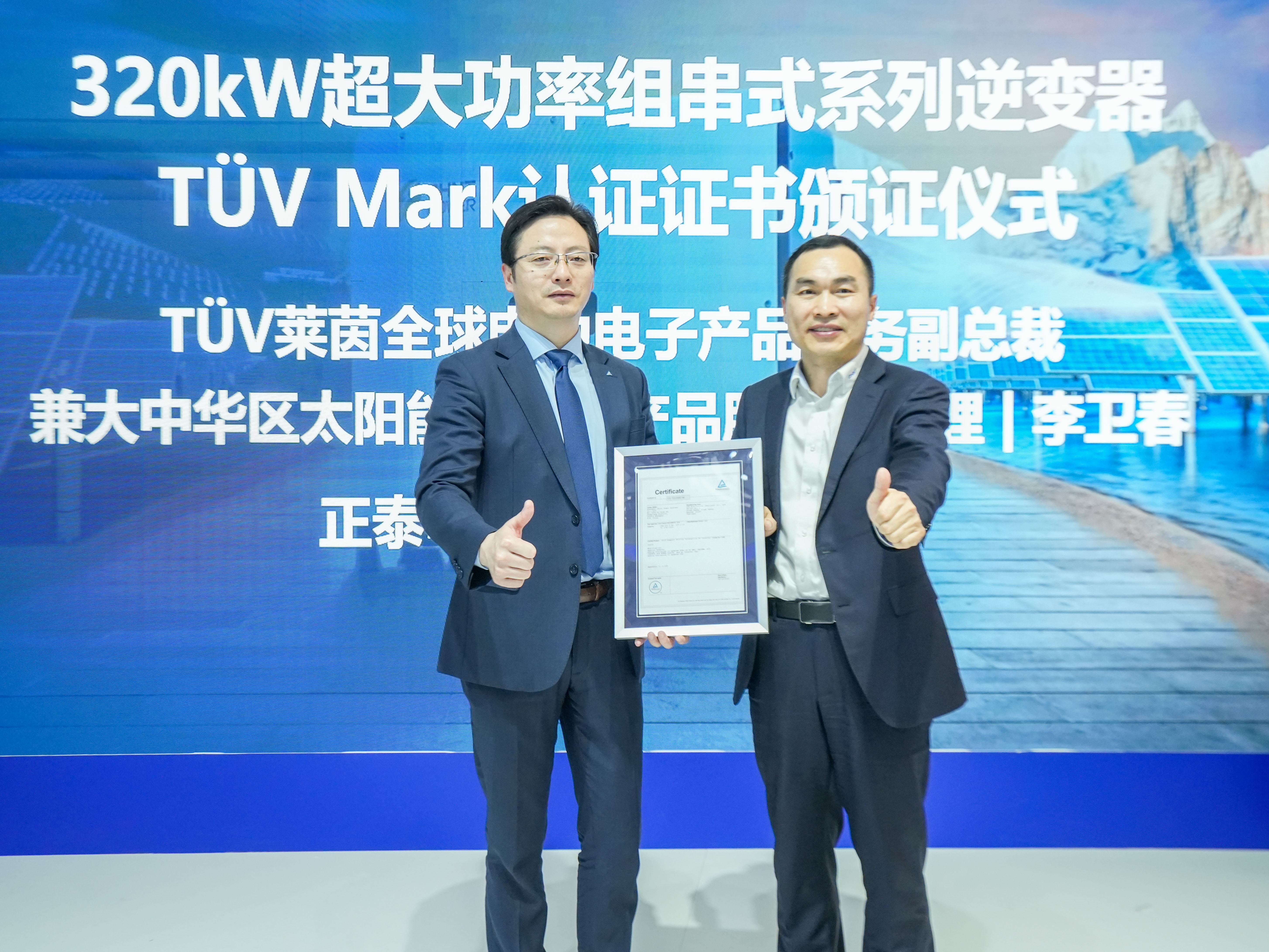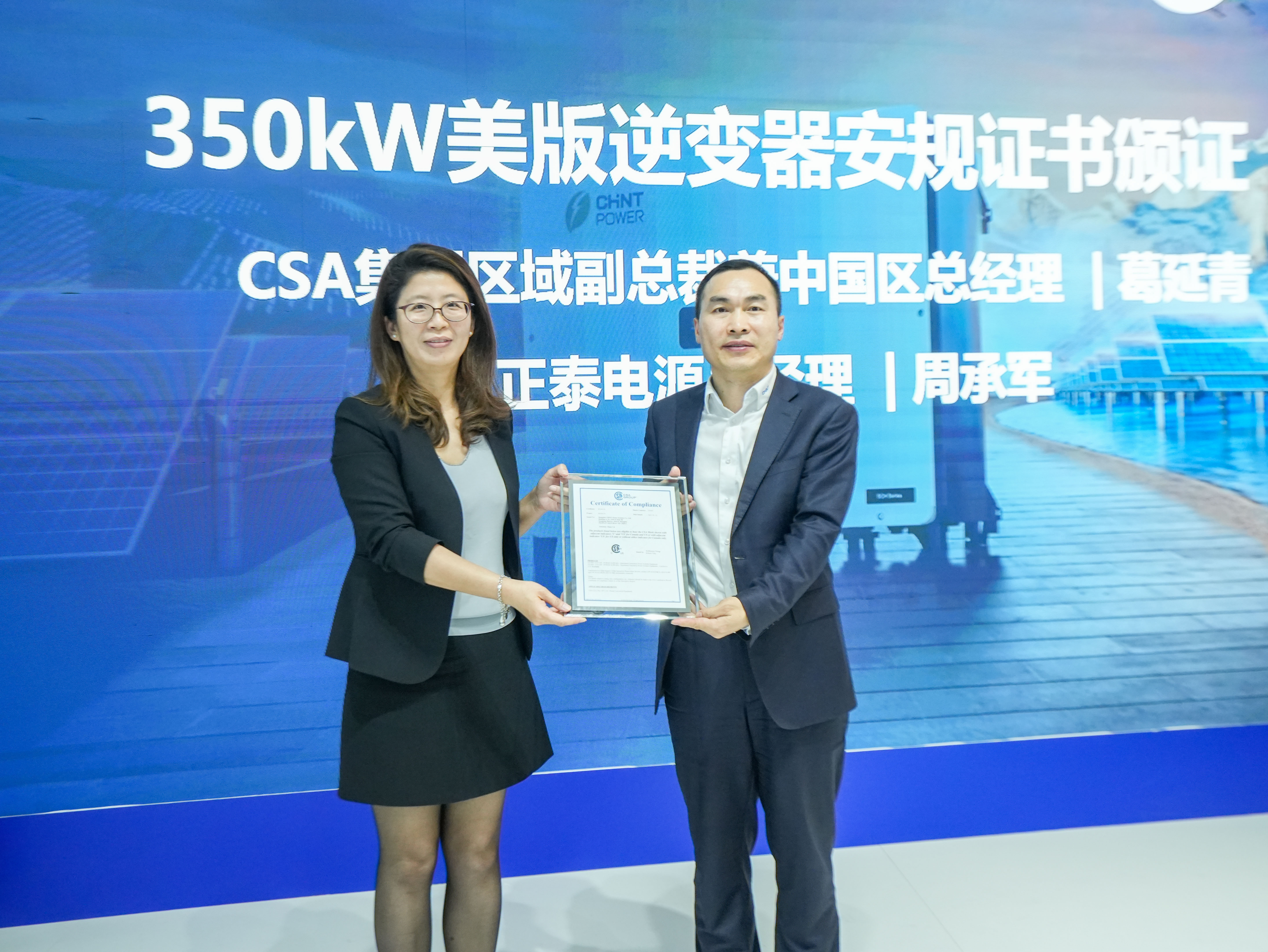 At the booth of TÜV SÜD, Xu Hailiang, vice president of TÜV Smart Energy, also issued the IEC 62109-1/-2 safety and VDE-AR-N 4105 German grid-connected products for the 15-40kW Residential series products exhibited by Chint Power Certificate. General Manager Zhou Chengjun of Chint Power and other guests attended the certificate awarding ceremony.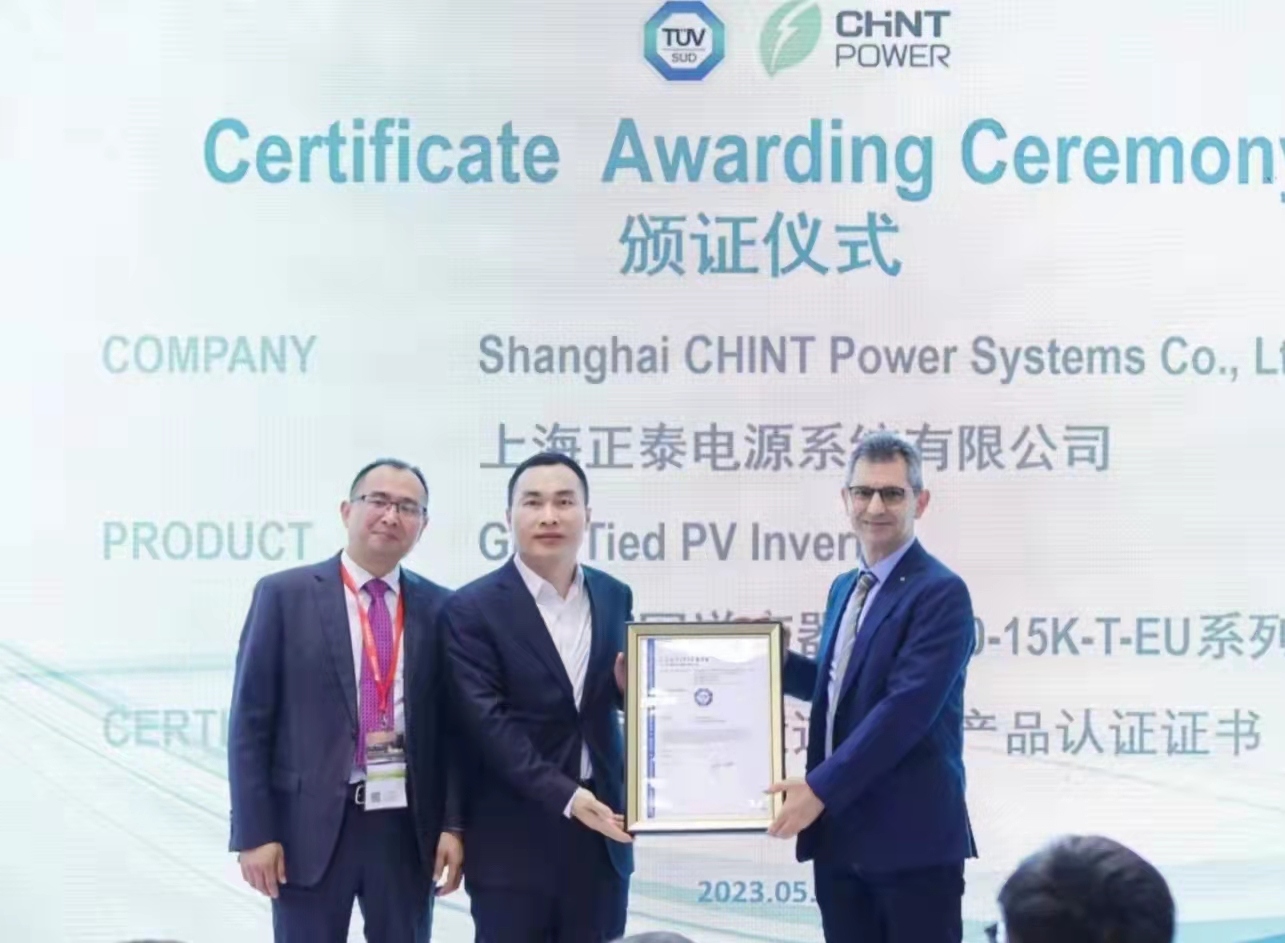 Future, Chint Power will also continue to take high-quality products as the cornerstone, continue to explore deeper development, and enhance brand influence and core competitiveness.
At the SNEC exhibition, Chint Power has accumulated a lot of knowledge and released a variety of new high-power PV plus storage products, and won the favor of customers with high-performance products and reference solutions.